In the realm of body adornments, earrings play a starring role, effortlessly adding an elegant touch to any outfit. Among the myriad choices, silver earrings are highly favored for their timeless charm and affordability. However, some silver jewelry wearers may find themselves grappling with an unexpected consequence – ear infections. This often comes as a surprise given that silver is renowned for its antimicrobial properties and is even used in medical treatments. So why do silver earrings cause infections in some people?
The answer is not as straightforward as one might assume. It involves a confluence of factors that extend beyond the metal itself, including improper care, the wearer's body chemistry, and the potential presence of other metals alloyed with silver. This blog aims to unravel the mystery behind this phenomenon, offering insight into why and how silver earrings can sometimes lead to infections and providing preventative tips to help you continue wearing your favorite accessories without any unwanted repercussions.
Let's delve into the world of silver earrings and ear health, unmasking the culprits that cause these unwanted infections and exploring potential solutions for the problem. Brace yourselves as we embark on a journey to better understand our body's response to silver earrings, and learn how we can enjoy our favorite adornments, worry-free.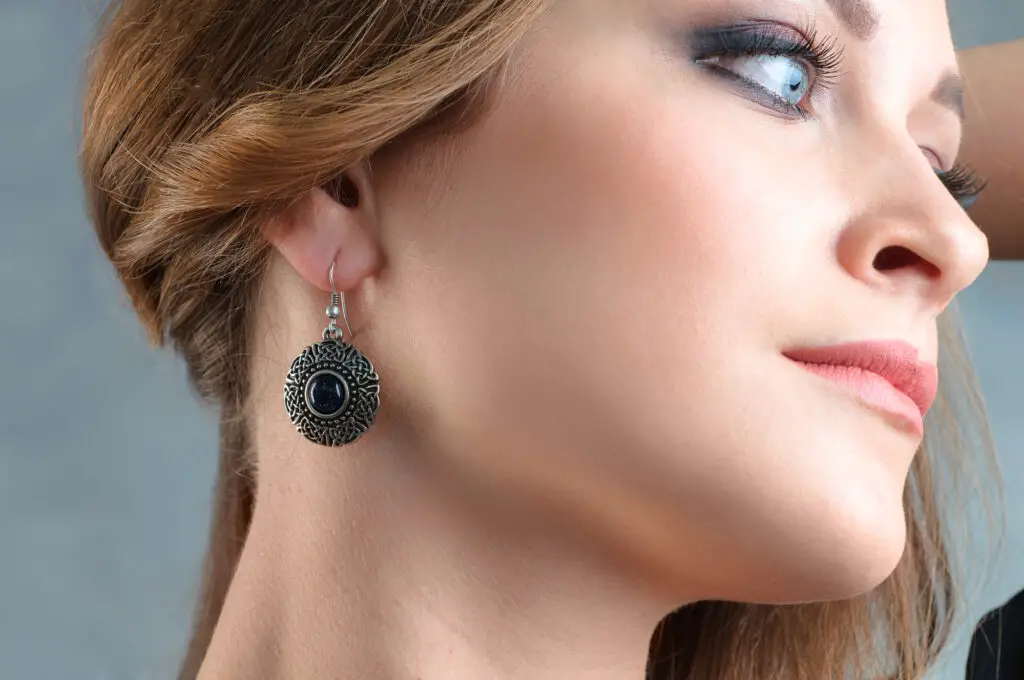 Reasons Why Silver Earrings Can Cause Infection
Silver Can Include Other Materials
Certainly, one of the primary reasons why silver earrings can cause infections is due to the materials they may contain besides silver. In many cases, silver earrings are not made of pure silver. Instead, they are often made from an alloy – a combination of silver and other metals. This is because silver, in its pure form, is very soft and malleable, making it less practical for use in jewellery.
The most common type of silver used for earrings is sterling silver, which is made up of 92.5% silver and 7.5% other metals, this does normally contain copper. These additional metals can sometimes cause allergic reactions in individuals who are sensitive to them, leading to infection-like symptoms. The primary culprit is usually nickel, a common allergen that can be present in some silver alloys or used in the earring's backing.
When you wear earrings that contain metals you're allergic to, your body's immune system recognizes the metal as a foreign substance. As a result, your body will react in an attempt to 'fight off' this substance. This reaction can lead to symptoms such as redness, swelling, itching, and sometimes even pus – signs of an infection, although technically it's an allergic reaction.
Furthermore, impurities in cheap or poorly made earrings can also cause infections. These earrings often have rough surfaces, which can lead to tiny scratches on the skin when worn. These scratches can then become breeding grounds for bacteria, leading to infection.
Lastly, other materials, like certain types of plastic or varnish used for coating, can also cause similar reactions, especially if the wearer has a specific sensitivity to them.
To sum up, while silver itself is usually safe and often used for its antimicrobial properties, the other materials often alloyed with it in earrings can sometimes cause problems for individuals with sensitivities or allergies.
Cheap Silver Used
Cheap silver earrings can indeed increase the risk of infection for several reasons.
Firstly, cheap silver earrings often contain a lower percentage of actual silver. They're commonly made from cheaper base metals, such as nickel, which are then thinly plated with silver. These base metals, especially nickel, are known to cause allergic reactions in many people. When the thin silver plating wears off, the underlying metal comes into contact with the skin, potentially triggering an allergic reaction that can resemble an infection with symptoms such as redness, swelling, and discharge.
Secondly, the manufacturing quality of cheap silver earrings is typically lower. They may have rough surfaces, sharp edges, or tiny crevices. These can create micro-scratches on the skin, which can breach the skin's protective barrier and provide an entry point for bacteria, potentially leading to infection.
Thirdly, the protective coatings used on cheap earrings can also contribute to the problem. Some manufacturers coat their products with substances such as varnish or lacquer to make them look shinier or to delay the silver plating from wearing off. However, these coatings can degrade over time, and when they do, they may cause irritation, or in worst-case scenarios, trap bacteria against the skin, encouraging an infection.
Lastly, cheaper earrings may not come with the same hygiene standards during manufacturing and handling as more expensive ones. This means that they may harbor bacteria or other pathogens right from the point of purchase, which could potentially lead to an infection once they're worn.
While not everyone who wears cheap silver earrings will experience problems, those with sensitive skin or known metal allergies are at a significantly higher risk. Therefore, it's often worth investing in higher-quality earrings, preferably made from hypoallergenic materials, to reduce the chance of complications.
Finishing Of Silver
Absolutely, the finish of earrings plays a critical role in the likelihood of causing an infection. Rough edges or improperly finished surfaces can act as potential risk factors for developing infections in the earlobe or any other pierced area.
When the surface of an earring is not properly finished, it can have micro-abrasions, sharp corners, or even tiny points that are difficult to see with the naked eye. When such earrings are inserted into the piercing, they can cause small injuries to the skin, creating tiny scratches or tears. These micro-injuries compromise the skin's integrity, which usually acts as the body's first line of defense against harmful bacteria and pathogens.
The skin's role is to act as a protective barrier, preventing bacteria and other pathogens from entering the body. When this barrier is breached, even by a tiny scratch, it provides an open gate for bacteria to infiltrate the underlying tissues. This is especially concerning in areas like the earlobe, where the warm, moist environment is already favorable for bacterial growth.
Once the bacteria enter the skin, they can multiply and lead to an infection, which might present itself as swelling, redness, discomfort, and sometimes discharge. The wearer might mistake this reaction for a simple sensitivity to the earring, when in fact it's a physical response to the micro-injury caused by the earring's rough finish.
So, when choosing earrings, it's crucial to pay attention to their finish. Smooth, well-polished earrings are less likely to cause micro-injuries to the skin, thereby reducing the risk of infection. This consideration is particularly important for people with new piercings, as the skin in these areas is even more susceptible to infection.
Ways To Stop Infection On Your Ears
Reducing the risk of ear infections caused by silver earrings involves both choosing the right jewellery and implementing good hygiene practices. Here are some strategies to help you:
Choose High-Quality Silver: Opt for high-quality silver, such as sterling silver or 925 silver, which are less likely to cause irritation or allergic reactions. Avoid silver-plated jewelry, which often has a base of a cheaper metal that may cause sensitivity in some people.
Check for Nickel Content: Even though sterling silver is primarily made of silver and copper, some manufacturers might include nickel, a common allergen, in their alloy. If you know you're sensitive to nickel, make sure the jewelry you choose is nickel-free.
Keep Your Earrings Clean: Regularly clean your earrings with a gentle jewelry cleaner or warm soapy water. Be sure to dry them thoroughly before wearing them again. Bacteria thrive in moist environments, so a thoroughly dried earring is less likely to carry bacteria into your piercing.
Maintain Piercing Hygiene: Keep your pierced area clean and dry. Use a saline solution or piercing aftercare solution to clean the area at least once a day. Avoid touching your piercings with dirty hands, and try not to fiddle with your earrings too much, as this can introduce bacteria.
Use Antibacterial Cream: If you have a new piercing or if your ears are prone to infection, you might consider applying a small amount of an over-the-counter antibacterial cream (like Neosporin) on your earrings before you put them in. However, some people might develop sensitivity to these creams, so discontinue use if you notice any irritation.
Rotate Your Earrings: If you have a new piercing, gently rotate your earrings a few times a day to prevent them from getting stuck to the healing skin. This also helps to keep the channel open and clean.
Consider Other Metals: If you consistently have problems with silver earrings, consider alternatives. Metals such as titanium, platinum, and high-quality gold are usually well-tolerated.
Consult a Professional: If you continue to have issues despite following these tips, consult with a dermatologist or a professional piercer. They can provide advice tailored to your specific situation and may be able to recommend other suitable materials for your earrings.
Remember, prevention is always better than cure. Taking the steps to prevent an infection is easier and less painful than dealing with an infection after it occurs. Always listen to your body and take any signs of discomfort or infection seriously.