As the golden sun sinks beneath the horizon, painting a myriad of colours across the Brisbane sky, one can't help but be reminded of the city's rich and glittering history. A history that is punctuated by the allure of gold, a precious metal that has sparked dreams, fueled expeditions, and built cities. Brisbane, with its vast and varied terrain, is not just a bustling, cosmopolitan city known for its stunning architecture and sunny beaches, but also a treasure trove that has, over the years, unveiled pockets of gold both literally and metaphorically.
Gold fever has a long and storied tradition in Australia. From the famous gold rushes of the 1850s to the present day prospectors armed with high-tech metal detectors, the search for this illustrious metal has been relentless. Brisbane, while perhaps not as renowned as areas like Victoria's Goldfields, has had its share of gold finds and remains a hub for both amateur and experienced prospectors today. Its rich geology continues to be a magnet for those with an adventurous spirit and a keen eye.
Whether you are an avid history buff, a committed gold prospector, or simply an enthusiast looking to engage in this thrilling pursuit, this blog will unearth the past and present spots for gold prospecting in Brisbane. We will journey through time, from the dusty footprints of the gold rush pioneers to the cutting-edge techniques employed by modern-day prospectors. So, strap on your boots, grab your shovel or detector, and let's embark on a golden adventure in the heart of Brisbane!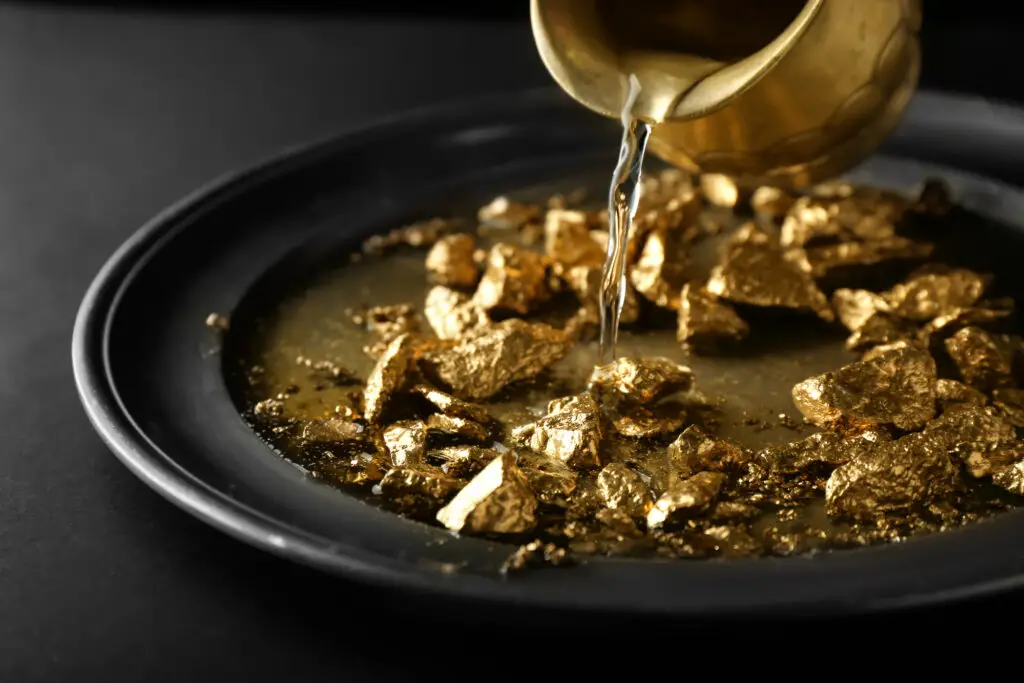 What Is The History Of The Gold Rush In Brisbane?
Australia's gold rush era, which occurred during the mid-to-late 19th century, is mainly associated with regions such as New South Wales and Victoria. However, the state of Queensland, home to Brisbane, also saw its fair share of gold fever.
The discovery of gold in Queensland dates back to the 1850s, shortly after the initial finds in Victoria and New South Wales that started the Australian Gold Rush. The first significant discovery in Queensland was in 1858 at Canoona, north of Rockhampton. This discovery triggered a rush of prospectors to the area, although the yields were disappointing for many.
As for Brisbane itself, while it may not have been the epicenter of gold mining during the gold rush era, its strategic location on the east coast and its status as a growing colonial city made it a crucial supply point and transportation hub. Prospecting and mining activities further inland at Gympie, Charters Towers, and Mount Morgan saw a surge of gold seekers passing through Brisbane. Many returned from the goldfields, bringing their finds to the city, and some even prospecting in the surrounding areas.
Even today, Brisbane is surrounded by regions that hold traces of gold rush history. To the south, Gold Coast earned its name from the booming real estate industry in the late 20th century, but it's a nod to the historical gold rush as well. To the north, Gympie, known as the "town that saved Queensland from bankruptcy," was a significant gold-producing area, where gold was discovered in 1867 by James Nash.
So, while Brisbane may not have been a key gold mining centre during the Gold Rush, it was nevertheless significantly influenced by this era, both economically and culturally, with its effects rippling through time right up to the present day.
Do You Need A Gold Licence To Look For Gold In Brisbane?
You do need a permit to prospect for gold or fossick in Queensland, which includes Brisbane. The permit required is called a Fossicking Licence, and it's issued by the Queensland Government's Department of Resources. This permit allows you to search for and collect fossicking materials, including gold, on land where fossicking is allowed.
The Fossicking Licence is available to both residents of Queensland and visitors, and can be purchased for varying lengths of time, depending on how long you plan to fossick. There are different types of licences including Personal/Family, Clubs, or Educational Purposes. Remember that fossicking can only be carried out on designated lands, and there are strict rules about the type of equipment you can use.
It's also important to know that permission must be obtained from the landowner to fossick on private property, even if you have a Fossicking Licence.
Please note that regulations and policies can change, so it's always a good idea to check the current regulations on the Queensland Government website or contact the Department of Resources directly before you start prospecting for gold.
What Are The 10 Secret Places To Look For Gold In Brisbane?
Brisbane and its surrounding regions offer several locations that are intriguing to gold prospectors, from public fossicking sites to historical gold-mining areas. While 'secret' might not be the accurate term – as these locations are known to some degree within the prospecting community – they're definitely less crowded compared to the more renowned goldfields in Australia.
Here are some notable locations in and around Brisbane where you might have some luck:
Warwick (Thanes Creek): This area is known for its gold-rich grounds and is a favorite amongst fossickers. You'll need to obtain a fossicking license.
Gympie: Known as the "town that saved Queensland from bankruptcy" due to its significant gold production, Gympie offers some exciting opportunities.
Mount Coot-tha Reserve: Believe it or not, gold has been found in this urban nature reserve, though it's more for the adventurous and patient prospector.
Gold Coast Hinterland: While not directly in Brisbane, the Hinterland has areas where gold has been found previously.
Yabba Creek: This spot near Imbil State Forest is an enjoyable place to relax and try your luck with some recreational gold panning.
Nanango: North of Brisbane, Nanango is an old gold mining area, where there are still some traces of gold and precious gems.
Kilkivan: Gold and other gemstones can be found here. Kilkivan was one of Queensland's first gold mining towns.
Mount Perry: A historical goldmining town located to the north-west of Brisbane. Gold was first discovered here in the late 1800s.
Clermont: Though a bit of a drive inland, Clermont was once a major gold-mining town and is now a popular area for prospectors.
Durikai State Forest Fossicking Area: Situated near Warwick, the forest is known for gold, particularly in its wash drainages coming off the western and northern slopes of Long Tom Hill.
These areas are known for their history with gold prospecting, but remember that finding gold requires patience, skill, and a bit of luck. Don't forget to respect local laws and regulations, including acquiring a Fossicking Licence, and respect the rights of landowners where necessary. Happy fossicking!
What Are The Abandoned Gold Mines In & Around Brisbane?
While Brisbane itself wasn't a major gold mining center during the Gold Rush era, there are historical gold mining areas around Brisbane where remnants of old gold mines can still be found today. These are located in areas where there were significant gold discoveries and mining activities in the past. Here are some areas to consider:
Mount Morgan: Located near Rockhampton, about 7 hours drive north from Brisbane, Mount Morgan was once one of the world's richest gold mines. Today it's a tourist attraction where you can tour the old mine site and learn about its fascinating history.
Gympie: About two hours north of Brisbane, Gympie was once known as the "town that saved Queensland" due to the gold rush in the late 19th century. There are old mine sites in the area and a Gold Mining and Historical Museum that provides information about this period.
Charters Towers: Though it's a significant distance from Brisbane (about 1300 kilometers northwest), it's worth mentioning due to its impressive history as one of Queensland's largest gold mining towns. Numerous old mines, including abandoned underground mines, can be found in this area. The Venus Gold Battery tour is an attraction that allows you to delve into the town's rich mining past.
Ravenswood: North-east of Charters Towers, Ravenswood is another former gold mining town where you can visit the remains of old mines and learn about the town's gold mining history.
Clermont: Located inland from Mackay, Clermont was a major gold mining town, and evidence of old mines can be found around the town.
Remember, exploring abandoned mines can be dangerous due to unstable structures, deep water, and other risks. Always prioritize your safety and respect any signs or barriers. In some cases, the old mines are on private property or protected heritage sites, so it's essential to get permission or join guided tours where available.