In the heart of the Deep South, embellished with natural beauty and steeped in a compelling mix of history, culture, and southern charm, lies Georgia. It's a place celebrated for peaches, pecans, and college football. Yet, for the discerning few, Georgia offers a less renowned, but equally delightful allure—the promise of gold. Not in its bustling metropolises or sprawling plantations, but tucked away in its hushed streams, quiet forests, and the cradle of the mighty Appalachians.
This post will journey through the untold stories and secret places of Georgia, revealing where that sought-after glimmer of gold might be hiding. From Dahlonega, the site of America's first major gold rush, to the hidden creeks in the heart of South Georgia, we'll provide a virtual map laden with the state's golden treasures.
We'll explore the intriguing history of gold prospecting in Georgia, reaching back to the early 1800s, when its discovery near Dahlonega sparked a rush of miners eager to stake their claim. We'll recount the tales of fortune and hardship that painted the landscape of this lesser-known chapter in Georgia's storied past.
Navigating the current laws surrounding gold prospecting can often seem as challenging as locating the gold itself. Therefore, we will provide a thorough understanding of the legalities to ensure that your treasure hunt is both rewarding and law-abiding. From understanding land ownership and prospecting rights to environmental considerations and permit requirements, we've got you covered.
Whether you're an amateur prospector, a history enthusiast, or someone simply seeking a unique adventure, this blog will be your golden ticket to the lesser-known wealth hidden in the folds of Georgia's landscape. North to south, mountain to coast, join us as we venture off the beaten path to discover the secret places to find gold in Georgia. So grab your pans and sluice boxes—it's time to go prospecting!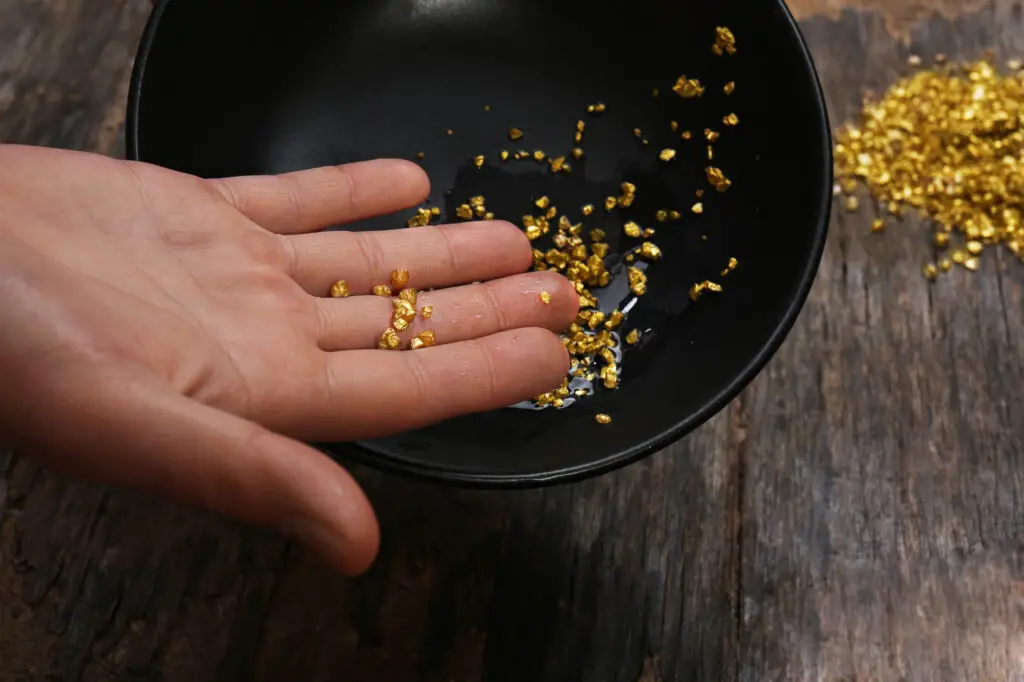 Does North Georgia Have A Lot Of Gold?
Yes, North Georgia is rich in gold, and it's no secret among those with an interest in America's golden past. The region has an intriguing history, one that saw it become the site of the first major gold rush in the United States, predating the more renowned California Gold Rush by two decades.
The Georgia Gold Rush started in 1828, within what's now Lumpkin County but was then Cherokee territory. Benjamin Parks, a deer hunter, is often credited with the discovery of the first gold nuggets near the town that would eventually be named Dahlonega—an anglicized form of the Cherokee word "Talonega," meaning "golden."
News of gold spread quickly, and by 1829, tens of thousands of prospectors flooded the region, hoping to stake their claim to the rich gold deposits. This sudden influx of settlers and miners unfortunately led to significant conflict with the Cherokee Nation, culminating in the infamous Trail of Tears in 1838, when thousands of Native Americans were forcibly removed from their ancestral lands.
As for the gold itself, it was plentiful. The Dahlonega Mint was established in 1838 and coined more than $6 million worth of gold before closing in 1861, an amount that doesn't include the gold privately minted or exported. The gold found was so pure that it required little to no refining.
However, when gold was discovered in California in 1848, many miners left Georgia to try their luck on the West Coast, leading to a significant decline in Georgia's gold production.
Today, you can still find gold in the rivers and mines of North Georgia, though the days of easy pickings are long gone. The Consolidated Gold Mine and Crisson Gold Mine in Dahlonega offer visitors a chance to pan for gold and learn more about Georgia's rich gold mining history.
While the Gold Rush era may have faded, the legacy of gold remains firmly embedded in North Georgia's history, geography, and culture. So if you're hoping to experience a slice of that golden past, a visit to North Georgia might be just the ticket.
Does South Georgia Have A Lot Of Gold?
While South Georgia doesn't share the same prolific gold mining history as its northern counterpart, gold can still be found there. The gold deposits in South Georgia are not as extensive or as concentrated as those in the North, mostly because the geological formations that often hold gold—like quartz veins and ancient riverbeds—are more prevalent in the northern part of the state.
However, this doesn't mean that South Georgia is devoid of the precious metal. For those willing to seek it out, gold prospecting can be a fun and rewarding adventure. Some creeks and rivers, particularly those with a history of gold discoveries in their upper reaches in the Piedmont region, can carry fine gold downstream.
One historical point of interest is the Franklin-Creighton Mine, which lies in Cherokee County near the boundary between North and South Georgia. This mine was a significant gold producer in the mid-to-late 1800s and was the last operating gold mine in Georgia, closing its operations in the 1980s.
Unlike North Georgia, where the gold rush has left an indelible mark, the history of gold in the South is much more subtle. For the most part, it's a story of individual prospectors and small mining operations, quietly panning in creeks or digging in the red Georgia clay, hoping to strike it rich.
Overall, while South Georgia may not have experienced the large-scale gold rush that marked the North, there's still gold to be found for those willing to put in the effort. And as any seasoned prospector will tell you, the thrill of the hunt is often as rewarding as the find itself.
What Are The Laws For Gold Prospecting In Georgia?
In Georgia, gold prospecting is regulated at both the state and federal level, and it's important to be aware of the laws and regulations before you begin.
Private Property: Gold prospecting on private property requires permission from the landowner. Without permission, it is considered trespassing and can result in fines or even jail time.
State Parks and Historical Sites: Gold prospecting is typically not allowed in Georgia's state parks or historical sites. Always check with park officials to find out about specific rules and restrictions.
National Forests: Much of the gold in North Georgia is found in the Chattahoochee-Oconee National Forest. Prospecting is allowed here, but it is regulated by the U.S. Forest Service. You are allowed to pan for gold in rivers and streams, but mechanized equipment (like sluice boxes or suction dredges) is not permitted. Digging into riverbanks is also prohibited.
Hunting Regulations: In some cases, you may need a hunting, fishing, or trapping license to prospect for gold, depending on the type of activity and the location.
Clean Water Act: Any prospecting activity that might affect water quality or disturb streambeds could fall under the jurisdiction of the Clean Water Act and will need a licence from the U.S. Army Corps of Engineers.
Endangered Species Act: If your prospecting activities could potentially affect threatened or endangered species or their habitats, you may be subject to restrictions under the Endangered Species Act.
Mining Claims: Georgia doesn't have a formal process for staking mining claims like some western states, so it's particularly important to make sure you have the proper permissions before you begin prospecting.
These are general guidelines, and the specific rules can change, so it's important to verify the current regulations with official resources. For further information and more detailed regulations, consult the Georgia Department of Natural Resources and the U.S. Forest Service
Always remember to respect the land and leave no trace of your activities. The future of prospecting depends on it.
10 Great Places To Pan For Gold In Georgia
Here are ten notable locations in Georgia where you can try your luck at gold panning:
Dahlonega: The heart of the Georgia Gold Rush, Dahlonega has several locations where visitors can pan for gold. These include the Crisson Gold Mine and the Consolidated Gold Mines.
Crisson Gold Mine, Dahlonega: Here, you can pan for gold and gemstones. They also offer mining equipment and gold concentrates for more serious prospectors.
Consolidated Gold Mine, Dahlonega: This site offers guided underground tours and gold panning. Visitors can even try their hand at mining with a 20-stamp mill.
Chattahoochee River: Known to have fine gold, you can pan along the riverbanks, but make sure to follow the US Forest Service guidelines.
Etowah River: Running through Dahlonega, the Etowah River is known to contain placer gold.
Chestatee River: This river was a hotspot during the gold rush. Panning is still allowed along the river, especially around the town of Dahlonega.
Tesnatee Creek: Located in White County, this creek has been a notable spot for gold panning over the years.
Chattahoochee-Oconee National Forest: The national forest has many rivers and streams where recreational gold panning is allowed.
Loud Mine, near Cleveland: Run by the Weekend Gold Miners Club, the Loud Mine allows members to prospect on its property.
Dukes Creek, near Helen: Dukes Creek was the site of a major gold discovery in 1828, and it's still a great place to find gold today.
Remember, wherever you go panning for gold in Georgia, always respect the land and adhere to all rules and regulations. It's not only the law, but it also helps ensure that these places remain open for prospectors in the future.
10 Great Places To Prospect For Gold In Georgia
If you're looking for places to prospect for gold in Georgia that aren't rivers or streams, you're likely going to be looking at mines or other historically rich areas. Here are some top picks:
Crisson Gold Mine, Dahlonega: One of the oldest hard rock mines in Georgia, it offers opportunities for gold prospecting and has a variety of mining equipment for rent.
Consolidated Gold Mine, Dahlonega: This is another excellent location, offering underground tours and the opportunity to pan for gold and gemstones.
Loud Mine, Cleveland: This site is managed by the Weekend Gold Miners Prospecting Club. Membership gives you access to the property for prospecting.
Pine Mountain Gold Museum, Villa Rica: While this location is primarily a museum, it also provides gold panning areas where visitors can try their hand at finding some gold.
Gold 'n Gem Grubbin', Cleveland: Located on a historic 300-year-old mining site, this is a unique spot where you can pan or sluice for gold and gems.
Outpost Gold and Gem, Helen: Not only can you pan for gold, but you can also mine for gemstones at this location.
Calhoun Mine, Dahlonega: Although a less traditional prospecting location, the Calhoun Mine is known for its rich history. It's currently a private property, so permission is needed for any prospecting.
Franklin-Creighton Mine, Ball Ground: This is one of the most prolific mines in Georgia and is worth investigating for gold prospecting.
Findley Mine, Dahlonega: This mine was one of the top producers of gold during the Georgia gold rush and still holds potential for gold prospecting.
Sixes Gold Mine, Canton: One of the oldest mines in the state, the site is now part of a subdivision, but certain areas may be available for prospecting with the right permissions.
Remember, always get permission before prospecting, especially on private property, and always follow all applicable rules and regulations. Happy hunting!
Where Are The Abandoned Mines In Georgia Located?
Georgia, with its rich history of mining, is home to a number of abandoned mines, primarily located in the northern part of the state where the gold rush occurred. Here are a few notable ones:
Franklin-Creighton Mine, Ball Ground: Once the richest gold mine in Cherokee County, this mine continued operating well into the 20th century before it was eventually abandoned.
Consolidated Gold Mine, Dahlonega: One of the largest hard rock gold mines in North Georgia, it was abandoned after it became unprofitable to continue operations. Today, it's a tourist attraction offering guided tours.
Findley Mine, Dahlonega: This was one of the most profitable mines during the Georgia gold rush and remained operational until around 1900.
Calhoun Mine, Dahlonega: Famous for a massive gold nugget found there, this mine has been abandoned for many years and is now privately owned.
Barlow Mine, Bartow County: This mine produced significant quantities of barite along with smaller amounts of lead, silver, and gold. It's now abandoned and partially flooded.
Loud Mine, White County: Once a rich source of gold, this mine has been abandoned and is now managed by the Weekend Gold Miners Prospecting Club.
Sixes Gold Mine, Cherokee County: One of the oldest mines in Georgia, it's now part of a residential area, but remnants of the mine remain.
Pine Mountain Gold Mine, Villa Rica: This mine was one of the most productive in the area during the gold rush. Today, it's part of a museum and park.
Battle Branch Mine, Lumpkin County: A significant source of gold in its time, this mine has been long abandoned.
Free Jim Mine, White County: Named after a freed slave who discovered gold there, this mine is now abandoned.
These locations are historical sites, and many are on private property or within protected areas. Always make sure to respect property rights, obey all laws and regulations, and prioritize safety when exploring or visiting these areas.