In the verdant landscapes of Vermont, history and natural wonder converge, offering a glimpse into an era where the glimmer of gold fuelled ambition and changed lives forever. Delving into the past, the Green Mountain State bore witness to the unique blend of gold rush frenzy and serene rural living. Today, we bring you on a journey through the gilded veins of this stunning state, revealing 24 of the best spots to prospect for gold.
Vermont's role in the American gold rush might not be as widely known as California's or Alaska's, but the region has a rich history peppered with tales of hopeful prospectors, thrilling discoveries, and deserted mines, echoing with the whispers of the past. From recreational gold panning to serious prospecting, these locations embody the spirit of the intrepid miner, beckoning modern-day adventurers with the promise of golden opportunities.
This blog will unearth the stories of forgotten gold mines, still standing as a testament to the glorious past, and waiting to be explored. It will also present an array of locations – from the shimmering streams to the hushed, forest-clad hills – where gold still lies hidden beneath the surface, for those with the patience and passion to find it.
So, grab your pan and prospecting gear as we delve into the untold treasures of Vermont, navigating through the landscapes that once bustled with gold-seeking activity. Whether you're an amateur enthusiast, a history aficionado, or a seasoned gold prospector, these 24 spots hold a fascinating allure that transcends time. After all, the thrill of gold prospecting isn't merely in the find, but in the journey of discovery itself. Let's embark on this golden adventure together!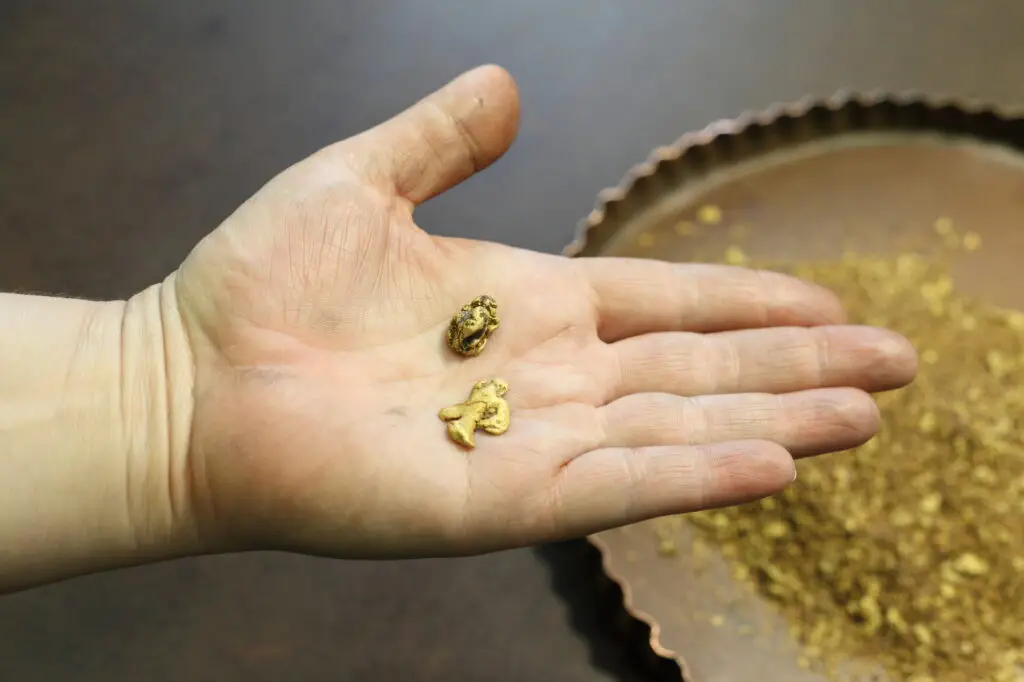 What Is The History Of Prospecting For Gold In Vermont?
Gold prospecting in Vermont has a rich but lesser-known history, especially when compared to the famous gold rushes of California or the Klondike. In Vermont, gold was first discovered in the early 19th century, around the 1850s, in the streams and brooks around the town of Plymouth and Bridgewater. This coincided with the California Gold Rush, so it didn't quite spark a rush of its own, as many Vermonters left the state to seek their fortunes on the West Coast.
Despite not causing a widespread rush, the discovery of gold did catch the attention of those who stayed behind, and Vermont became known as a place where gold could be found. Gold prospecting became a part-time occupation for many locals, while others sought their fortunes full-time, leading to the establishment of various mines.
Among the most famous gold mines was the Rooks Mine, which was set up in the latter half of the 19th century. Located in Plymouth, it was an underground mine and said to be one of the most productive gold mines in the state. Other notable operations included the Elizabeth Mine and the Hammondsville Mine.
Throughout the late 19th and 20th centuries, prospecting continued on a small scale. The state never had another significant gold discovery that could lead to a major commercial operation, so mining gradually declined and eventually ceased. Today, most of the old mines are abandoned, and gold prospecting is predominantly a recreational activity.
Vermont's gold production may have been small in comparison to the more well-known mining states, but the area still holds a fascinating history and continues to attract modern prospectors. The Green Mountain State's brooks and streams are laden with fine placer gold waiting to be discovered, and the historic mines serve as a reminder of an era of glittering dreams and determined resilience.
What Is The Biggest Nugget Found In Vermont?
While Vermont is known for its small-scale gold prospecting, primarily yielding tiny flakes or small nuggets, it doesn't have any record of a particularly large gold nugget discovery akin to those found in more renowned gold mining states like California or Alaska.
Vermont gold is typically placer gold, found in streams and rivers, usually in the form of small flakes or 'dust'. It's believed that this gold has been ground down into smaller pieces by the glacial activity that once covered the state.
Prospectors, both past and present, commonly find gold in Vermont's rivers such as Ottauquechee, White, and West rivers, where you can occasionally stumble upon small nuggets. The gold found in these places adds to the excitement of prospecting, but large, noteworthy nuggets are generally not a characteristic of Vermont's gold prospecting history.
While the absence of sizeable nuggets might be discouraging to some, others find the pursuit of Vermont's gold a rewarding activity in its own right, cherishing the scenic beauty, the joy of the hunt, and the allure of history that make gold prospecting in Vermont a truly unique experience.
What Are 24 Best Places To Prospect For Gold In Vermont? (Panning And Land)
Sure, let's explore the most promising places in Vermont where gold prospecting enthusiasts have had success over the years. From rivers and brooks, to historic mines and lands, these sites have been identified as having potential for gold discovery. However, before you set out, please ensure you are not trespassing on private land, and adhere to all the local regulations and laws concerning prospecting.
Buffalo Brook: Located in Plymouth, this brook has a history of yielding gold and is a popular spot for prospecting.
Broad Brook: Near Bridgewater, gold has been found here. This was one of the areas where gold was first discovered in Vermont.
West River: Near the town of Londonderry, many have found success panning in this river.
White River: This river has numerous branches where gold has been discovered, especially near the towns of Bethel and Royalton.
Ottauquechee River: This river, particularly near Bridgewater, is known for its gold yields.
Williams River: In Chester, this river has been a notable spot for finding gold.
Mad River: Gold can be found in various sections of this river.
Missisquoi River: This river in Troy has proven to be a good place for prospecting.
Winooski River: Gold has been discovered in several spots along this river.
Lamoille River: This river in Johnson can be a good place to pan for gold.
Plymouth Five Corners: A site in Plymouth, this was the location of Rooks Mine, a historically productive mine.
Reading Pond Brook: This brook has a history of gold discovery.
The Bridgewater Area: Several brooks in this area have been known to produce gold.
Black River: Located in Cavendish, prospectors have reported finding gold here.
Saxtons River: This river has been known to yield small amounts of gold.
Baker River: Near the town of Warren, this river has been a site for gold panning.
Falls River: This river in Canaan has been a location for prospecting.
Gold Brook: Aptly named, this brook in Stowe has a history of gold discovery.
Passumpsic River: Near the town of Barnet, this river has been a site for gold panning.
First Branch White River: Near the town of Tunbridge, this river has proven to be a good place for prospecting.
Second Branch White River: Similar to the First Branch, gold has been discovered here.
Third Branch White River: This river, particularly near the towns of Bethel and Royalton, is known for its gold yields.
Flower Brook: Located in Danby, gold has been found in this brook.
Ball Mountain Brook: This brook in Jamaica is another spot with a history of gold discovery.
While gold prospecting in Vermont may not lead to substantial wealth, it's an engaging activity that combines the thrill of the hunt, the beauty of the state's natural areas, and a touch of historical adventure.
Where Are Some Of The Abandoned Mines In Vermont?
Vermont's gold mining history is not as extensive as some other states, but it does have a few notable abandoned gold mines. Prospecting here was often carried out on a smaller scale, primarily in riverbeds and streams. That said, a few commercial operations did set up mines. Please be aware that visiting these sites can be dangerous, and it is often illegal to enter old mines. Always respect private property and adhere to all safety guidelines.
Rooks Mine: Located in Plymouth, this was one of the most productive gold mines in Vermont during the 19th century. It was an underground operation and now stands abandoned.
Hammondsville Mine: Also known as the "Curtis Mine," this old gold mine is located in Weathersfield.
Bridgewater Placer: While not a mine per se, the area near Bridgewater was one of the first places in Vermont where gold was discovered. Some mining operations were established here, but today it is primarily a site for recreational panning.
Plymouth and Buffalo Brooks: These areas in Plymouth and Reading were known for placer gold and had several small mines and sluicing operations during the gold rush era.
Keep in mind that while these mines hold a certain historical charm, they are not typically places where modern-day prospectors can find gold. The gold veins that these mines were established to exploit have largely been exhausted. Today, most gold found in Vermont is placer gold, found in the state's rivers and streams.