Bangalore, also known as the 'Silicon Valley of India,' is not just a hub for tech enthusiasts but also a gold mine for those passionate about exquisite jewelry. The city's rich tapestry of culture, interwoven with a deep-rooted history of craftsmanship, has bestowed it with some of the finest gold shops in the country. From the bustling streets of Chickpet to the opulent malls of MG Road, Bangalore's gold legacy sparkles as brightly as ever.
Gold, in India, is not merely a metal; it's a symbol of prosperity, an integral part of festive rituals, and a cherished heirloom passed down generations. Bangalore, with its diverse population and historic roots, has fostered a thriving ecosystem for gold trade. The city has seen the rise of both age-old establishments, bearing the weight of tradition, and modern boutiques, introducing contemporary designs to the mix.
Embarking on a quest for the perfect piece of jewelry in Bangalore is no less than a treasure hunt. The vast array of designs, from intricate temple jewelry to minimalist modern pieces, promises something for every aesthetic and occasion. But with so many options, where does one begin? Fret not, for we have curated a list of the 30 best gold shops in Bangalore to guide you on this glittering journey. Dive in, and let's unearth the city's golden gems together!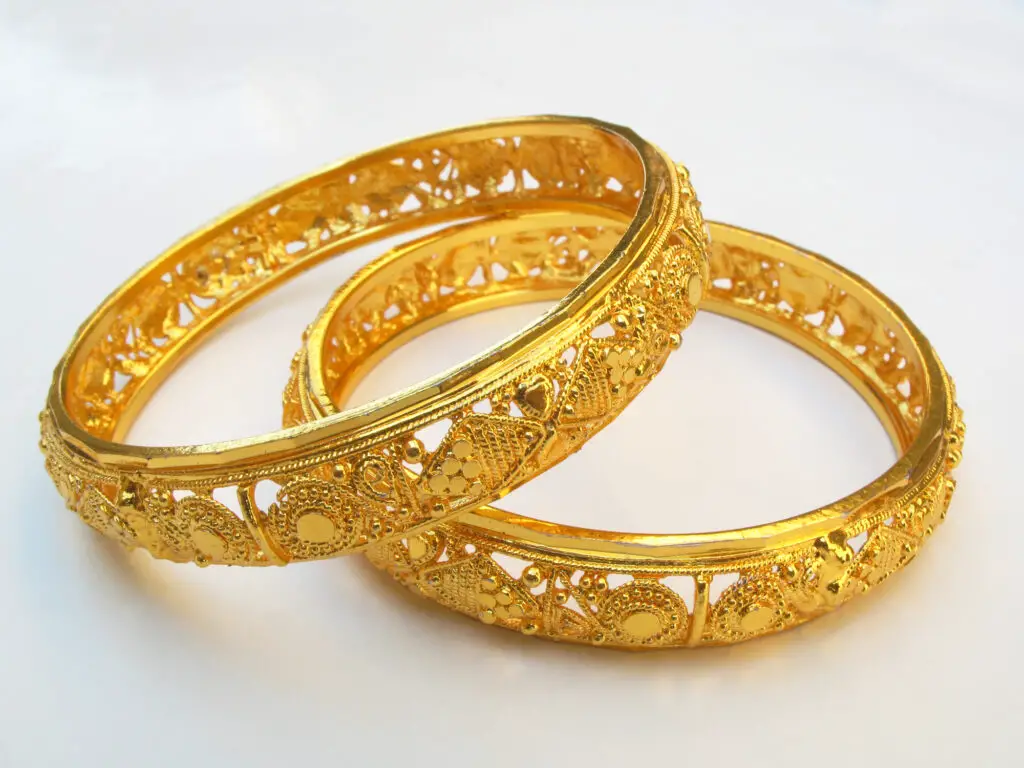 What Is The History Of Bangalore And Gold/Jewellery?
Bangalore, now known as Bengaluru, has a rich history that dates back over a thousand years. Though not directly related to gold and jewellery in its early history, the city's connection to these precious commodities has grown over the centuries due to various factors. Here's a brief overview of Bangalore's history in relation to gold and jewellery:
Early History & Trade Routes: The city's strategic location made it a critical point for trade routes in ancient and medieval India. As trade flourished, Bangalore saw an influx of various crafts, including jewelry-making. Artisans and traders from various parts of the country came and settled, bringing their unique styles and techniques.
The Vijayanagara Empire: The Vijayanagara Empire (14th to 17th century) was renowned for its grandeur and opulence. Gold played a significant role in the empire's economy, and craftsmanship flourished under royal patronage. Temples adorned with intricate gold works became symbols of prosperity and power.
The Mysore Wodeyars: The princely state of Mysore, under the Wodeyar dynasty, was another era where art and culture, including jewelry craftsmanship, were promoted extensively. The Wodeyars were known for their vast treasures, and Bangalore, being part of the state, benefited from this legacy.
Growth of Markets: As Bangalore grew in prominence and became a major city under the British Raj, specific markets like Chickpet and Avenue Road started establishing themselves as major hubs for gold and jewelry trade. These markets still stand today as a testament to the city's age-old trade connections.
Post-Independence & Modern Times: After India gained independence in 1947, Bangalore witnessed rapid industrial and IT growth. With increased prosperity, the demand for luxury items, including gold and jewelry, grew. The modern, cosmopolitan population of Bangalore also began to seek a mix of traditional and contemporary jewelry designs.
Gold as Investment & Social Status: In Indian culture, gold has always been seen as a symbol of wealth, prosperity, and social status. Bangalore, with its mix of traditional values and modern ethos, continued this cultural trait. Gold purchases spike during festivals and weddings, reflecting its cultural significance.
Emergence of Brand Outlets: In recent decades, numerous branded jewelry outlets have sprung up in Bangalore, catering to the city's diverse and upscale population. These brands often blend traditional designs with modern aesthetics, offering a wide range of choices for consumers.
Today, Bangalore is home to a blend of traditional goldsmiths and modern jewellers, creating pieces that cater to a wide range of tastes and preferences. The city's rich history and diverse population have made it one of the top destinations for those seeking exquisite gold jewellery in India.
Is Bangalore A Good Place To Buy Gold Jewellery Today?
Buying gold jewellery in Bangalore offers its own set of advantages and some factors to consider in comparison with other major cities or gold trading hubs. Here's a comprehensive look:
Advantages of Buying Gold in Bangalore:
Diverse Selection: Bangalore caters to a multicultural and cosmopolitan crowd. As a result, the city offers a wide range of designs, blending traditional South Indian motifs with contemporary and even North Indian styles.
Reputed Jewelers: The city is home to both age-old establishments, trusted for generations, and modern branded outlets that adhere to strict quality standards.
Craftsmanship: Given its historical links to the jewelry trade and the patronage of various dynasties, Bangalore boasts skilled artisans who excel in crafting intricate designs.
Competitive Rates: The gold rate in Bangalore is determined by the Indian Bullion Jewellers Association, ensuring a standardized rate across the city's dealers. Often, the prices are competitive when compared to other cities.
Certification & Purity: Most reputed jewelers in Bangalore offer certified jewelry, ensuring the purity of gold. Hallmarked jewelry is widely available, which serves as an assurance of quality.
Trade Hubs: Areas like Chickpet have been long-standing gold trade hubs, offering a wide variety of choices and competitive pricing due to the sheer volume of trade.
Factors to Consider:
Gold Rate Variations: While gold rates are relatively standardized across India, slight variations can occur due to local taxes, transportation costs, and making charges. Depending on these factors, gold prices might be marginally cheaper or more expensive in other cities.
Design Preferences: If one is looking for specific regional designs (e.g., Rajasthani Kundan or Bengali filigree), cities native to those styles might have a broader and more authentic range.
Making Charges: Making charges can vary between cities. While Bangalore offers competitive rates, it's advisable to compare these charges with other major cities.
Regional Hubs: Places like Kerala have a strong history with gold and might offer more competitive rates. Similarly, cities like Mumbai have the Zaveri Bazaar, a major gold market that can sometimes offer better deals.
In conclusion, Bangalore is undeniably an excellent place to buy gold jewellery due to its rich history, skilled craftsmanship, and vast selection. However, if you're looking for the absolute best deal or specific regional designs, it might be worth comparing with other major gold hubs in India. Always prioritize authenticity, certification, and the reputation of the jeweller over slight price differences.
30 Best Places To Buy Gold Jewellery In Bangalore
Bangalore has numerous reputed gold jewellery outlets, both traditional and contemporary. Here are 30 notable places in Bangalore where you can buy gold jewellery:
Tanishq: A pan-India brand known for its trustworthiness and design variety.
Joyalukkas: Another pan-India brand, originating from Kerala, that offers an extensive range of designs.
Malabar Gold & Diamonds: Renowned for their diverse designs catering to different Indian cultures.
C. Krishniah Chetty & Sons: One of the oldest and most trusted jewelers in Bangalore, they've been in business since 1869.
Bhima Jewellers: Another longstanding name, with a strong reputation in South India.
Navrathan Jewellers: Known for their exquisite traditional and designer collections.
Kalyan Jewellers: A prominent brand in India, they offer a broad spectrum of designs.
Jos Alukkas: Another stalwart from the South Indian jewelry scene.
Abaran Timeless Jewellery: A reputed jeweler known for its unique and artistic designs.
Raj Jewels: They are especially known for their Kundan and diamond collections.
Sri Ganesh Diamonds & Jewellery: A reputed local brand with quality offerings.
Ganjam: Established in 1889, they're renowned for their intricate designs and impeccable craftsmanship.
Sri Bhavani Jewels: A popular choice for traditional gold jewelry.
Sri Renuka Prasanna Jewellers: Known for their vast collection and design variety.
Amman Gold: Offers a mix of traditional and contemporary gold jewelry.
Augrav: Renowned for personalized jewelry offerings.
BlueStone: Though an online-first platform, they also have a physical store in Bangalore and are known for modern designs.
S. Raja Rajeshwari & Co. Jewellers: A trusted name in traditional jewelry.
Totaram & Sons Jewellers: Offers a diverse range of traditional South Indian jewelry.
Lalithaa Jewellery: Known for their competitive pricing and vast collection.
Davanam Jewellers: Offers a good mix of traditional and contemporary designs.
Khazana Jewellery: Another major South Indian brand with an extensive collection.
Neelkanth Jewellers: Known for their unique and bespoke designs.
P.C. Chandra Jewellers: While rooted in Kolkata, their Bangalore outlet offers a mix of Bengali and South Indian designs.
Manepally Jewellers: Their intricate designs are quite popular among locals.
Shubh Jewellers: Offers a wide range of gold jewelry at competitive prices.
Ishtara Jewellery: Known for their premium collections.
Kirtilals: Offers a broad spectrum of designs, from traditional to diamond-studded pieces.
Orra: While primarily known for diamonds, they have an exquisite gold collection.
Senco Gold & Diamonds: Another brand with roots in Kolkata, offering a blend of designs suitable for the Bangalore market.
It's always a good idea to visit multiple stores to explore designs and compare prices before making a purchase. Ensure that you inquire about the purity, hallmark, and making charges, and always request a proper receipt for your purchase.
Are There Any Markets To Discover Gold Jewellery In Bangalore?
Bangalore has several markets and areas that are renowned for their gold and jewelry shops. These markets have been in existence for many years, and some have been pivotal trading hubs for gold and precious metals. Here's a list of some of the major gold markets to discover in Bangalore:
Chickpet:
One of Bangalore's oldest commercial areas, Chickpet is a bustling market known for its plethora of gold and silver jewelry stores. The narrow lanes house numerous shops offering a variety of designs.
Besides gold, Chickpet also offers an array of textiles, sarees, and other commodities, making it a diverse shopping experience.
Avenue Road:
Adjacent to Chickpet, Avenue Road is another age-old trading hub. While it's known for books, stationery, and other items, you can also find several jewellery shops in this densely packed market.
Commercial Street:
While Commercial Street is more popular for clothing and accessories, there are quite a few jewelry shops dotted across this shopping street. It's a good place to explore both traditional and contemporary jewelry designs.
Jayanagar 4th Block:
Jayanagar, one of Bangalore's prominent residential and commercial areas, has a market in its 4th Block that houses several jewelry stores. You'll find a mix of old, established names and newer brands here.
Malleswaram:
Malleswaram, with its mix of tradition and modernity, has a number of gold shops, especially around the 8th Cross area. It's a great place to explore both jewellery and the cultural vibrancy of Bangalore.
Brigade Road & MG Road:
While these areas are more cosmopolitan and commercialized, they host a number of branded and high-end jewelry outlets. It's a good place to explore if you're looking for contemporary and branded offerings.
Rajajinagar:
Another residential-cum-commercial area, Rajajinagar has several jewelry stores, especially around the main road, making it a convenient option for those residing in the western part of Bangalore.
Koramangala:
As one of Bangalore's more modern and upscale localities, Koramangala has a number of branded jewellery outlets catering to the city's younger and affluent crowd.

When exploring these markets, it's a good idea to:
Be cautious: Like any other bustling market in the world, be wary of pickpockets and keep your belongings secure.
Bargain: Especially in non-branded stores, there might be some room for negotiation on making charges or additional offers.
Seek authenticity: Always ask for hallmarked jewelry and ensure that you get a proper receipt detailing the gold purity, weight, and the price you paid.
Remember, the joy of exploring these markets is not just in the shopping but also in soaking in the vibrant atmosphere and rich tapestry of Bangalore's culture.